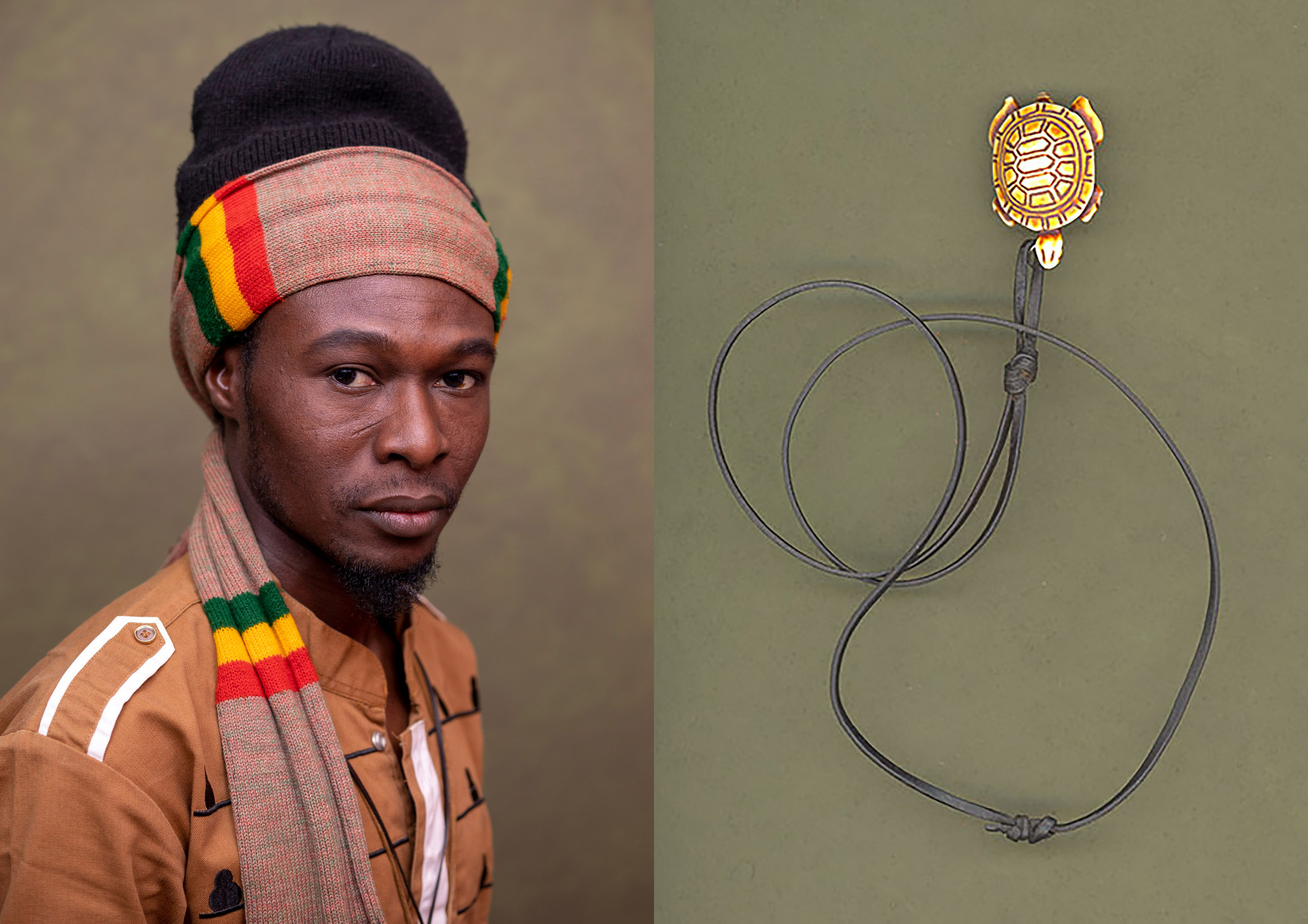 Studies in Arts and Cultures Program, Université Abdou Moumouni, Niamey, November 2018
Where are you from?
Tahoua (Niger)
Describe your object?
A turtle necklace made with ocean stone (coral?) It has a round shape, like a little turtle, with a cord made of bull skin. This object is embellished by a yellow color and traces of ashes.
Where is your object from?
The turtle necklace comes from Abidjan, Ivory Coast
How is your object meaningful to you?
It is a symbol of perseverance and resistance. In fact, the turtle is a symbol of patience, wisdom and endurance. That is why I always wear this necklace. As a musician, this necklace gives me strength and energy when I'm on stage. I think my patience stems from the love I feel for the turtle. This is why I always have the turtle necklace around my neck
How do you see yourself as an artist in your community?
Not well regarded in the beginning, because of social prejudices. In Niger, many people still think that being an artist is not a profession. But today, thanks to art and cultural education at the university level, notably with the Arts and Culture Institute, Nigerian society is beginning to have a more positive view of artists. As an artist, I see myself as a defender of the people thanks to my music, and as an activist on the side of the marginalized.
What is your hope for the future?
My hope for the future is to find work in the art world, to be able to apply everything I've learned during my arts and culture formation at the university level. To serve Niger, Africa, and the world wherever there is a need. I hope that art will help Niger to be known elsewhere.
D'où êtes-vous?
Tahoua (Niger)
Décrivez votre objet?
Fabriqué à l'aide de la pière de mer, le collier a la forme ronde, reflétant une petite tortue insérée à un fil qui est fait à la base de la peau du totaux (le mal de la vache). Cet objet est embelli par une couleur jaune avec des traces cendre.
D'où vient votre objet?
Le Collier à la tortue vient d'Abidjan (Cote d'Ivoire)
Comment votre objet a-t-il un sens pour vous?
Le Collier à la tortue est pour moi un symbole de la persévérance et de résistance. En effet, la tortue incarne la patience, la sagesse, l'endurance… C'est pourquoi je porte toujours ce collier sur moi. En tant qu'artiste musicien, ce collier me donne la force et l'énergie une fois sur la scène. Je crois que ma patience a un lien avec l'amour que j'ai pour la tortue. Voilà pourquoi j'ai toujours le collier à tortue au tour de mon cou.
Comment vous voyez-vous comme artiste dans votre communauté?
Un peu mal vue au début, à cause des préjugés sociaux. Au Niger beaucoup de personnes pensent encore qu'être artiste n'est pas une profession. Mais aujourd'hui grâce à l'enseignement de l'art et de la culture au niveau universitaire, notamment avec l'institution de la filière Arts et Culture, la société nigérienne commence à avoir un regard plutôt positif de l'artiste. Comme artiste je me vois défenseur du peuple grâce à ma musique, activiste également engagé du côté des marginalisés.
Quel est votre espoir pour l'avenir?
Mon espoir pour l'avenir, c'est trouver un travail dans le domaine artistique en vue de mettre en application toutes les compétences que j'ai acquises pendant ma formation universitaire en Arts et Culture. Servir le Niger, l'Afrique, et le monde partout où le besoin se fera sentir. Je garde l'espoir que l'art servira à faire connaitre le Niger ailleurs.